And so, with the by-now-traditional last night Karaoke destruction of Mr Brightside and Angels, the third Tom Maynard Academy comes to an end.  Ten days of hard work, both technical and physical, tailored support and advice, and, equally importantly, laughter and enjoyment.   
As ever, the group met up at the airport on a windy Thursday afternoon with the traditionally tentative pre-bonding handshakes and nervous small talk.  Twelve lads drawn from ten counties, with our first experience of players from Durham and Middlesex.  There were a few players with some first class and one-day county experience, probably the most notable being Ben Duckett (Northamptonshire), Jamie Harrison (Durham), Harry Podmore (Middlesex), Usman Arshad (Durham) and Ryan Higgins (Middlesex). 
The management group were a man down at the start, with Paul Nixon ("Nico") unable to join us until two days into the camp.  Mark Garaway ("Garas") was again providing some psychological profiling for the twelve lads on the trip and, as in 2015, his contribution extended beyond his area of expertise as he kept the management team entertained throughout his five day stay.  Tour mascot.  The rest of the management group was as in 2015, with Ian Harvey coaching alongside Nico and Matthew Maynard and Dean Conway providing physio and S&C support until the 'champagne shift' of Glamorgan's Mark Rausa came in for the final three days.  Jamie Dalrymple again provided expertise on the psychology of leadership and team dynamics, and this year we were joined for the first five days by the Trust's Chairman, Martyn Ryan. 
The nets and the way the group was looked after were, again, outstanding.  Andy "Pocchetino" House lived up to his reputation as he ferried folk back and forth to the airport without so much of a hint of a complaint.  I said it last year, but every group trip should have an Andy House.   
Nico hasn't slowed down one iota, still with fingers in a million pies, an enviable contacts book and a constant bundle of irrepressible energy.  His enthusiasm was again catching with the lads.  He trained alongside them away from the nets and even kept wicket in the final T20 match of the trip as Ben Duckett was always scheduled to leave after the first one in order to catch a flight back for a Northamptonshire team-mate's wedding.  He conceded four byes.  Shame on you, Nixon.  Call yourself someone who leads by example? 
Ian Harvey (aka "Harvs") was a magnificent foil for Matt, supporting the bowlers throughout the visit, and he must have been spending more time with his dictionary as he only rang the 'I-don't-know-what-that-word-means' bell twice during Jamie Dalrymple's talk.  Progress.  Though he did let himself down with his golf, even managing to lose to a team with me in it.  Goodness me, the shame.  The ten Euro note is framed on my wall.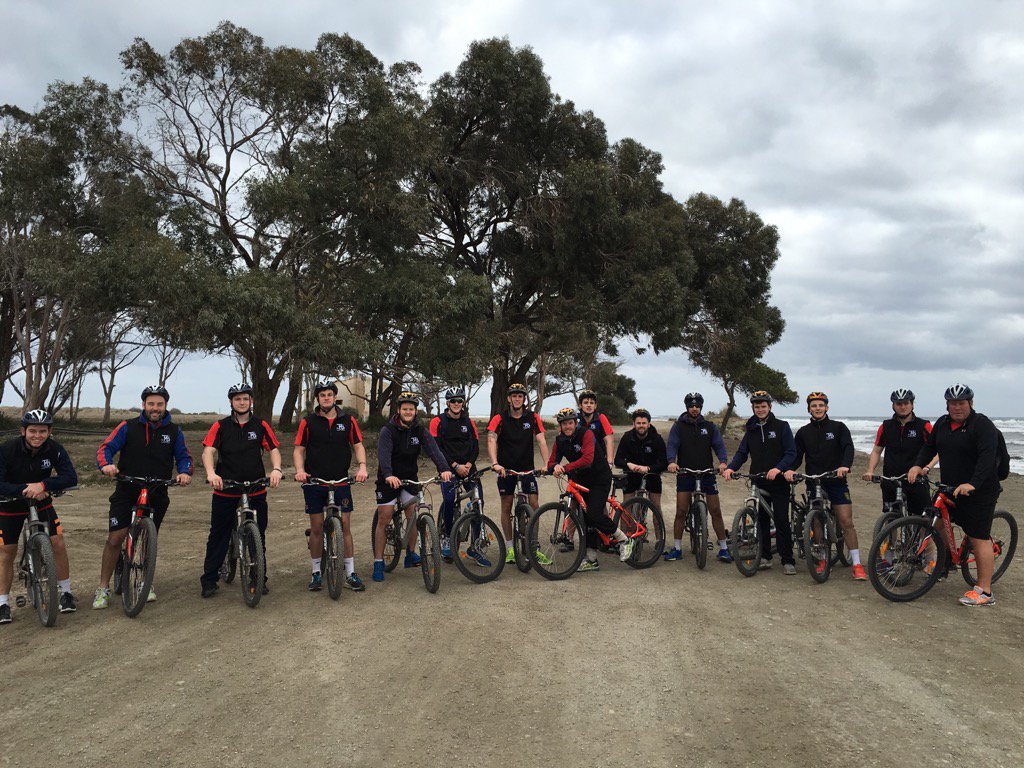 The bike ride didn't go according to plan.  There were broken chains and clattering gears galore, so only the one outing was planned.  We were surprised to hear that the bikes had been given a full service before we arrived out at Desert Springs.  Not too sure they understood the meaning of the word 'thorough'…  This year we introduced a quiz, splitting the group into four teams with me setting the questions and my wing man, Dean Conway, acting as referee.  He was needed on a couple of occasions, as Ed Pollock kept chirping up with queries (probably just picked up the sledging from Harvs, who was in his team) and Matt Maynard was nearly red carded when a potential answer was almost turned down as incorrect.  Hockeypuckgate…  Unbelievably, Maynard was in the winning team, alongside Tim Rouse, Tom Hampton and Jamie Harrison.  I reckon that will be right up there with his Championship medal and his England caps. 
Dean again organized the lads' fitness work, though they were encouraged to follow their own individual programmes away from the cricket at the gym on site.  Dean also ran the warm-ups. He even arranged a proper afternoon game of football. I dare not ask how the teams were divided but the spirit was good if not the technical ability, though there was mention of 'The Guildford Messi' so at least one of the lads must have had a bit of ability.  I think Dean is just desperate for the boys to move on to a rugby ball, though. 
Garas's work was focused on action profiling for the players, helping them understand where they might be able to bring about a few basic improvements to stance, fielding position, eye alignment and the like.  It's highly technical geeky stuff, but Garas is the perfect geek to be passionate about it.  As with everything we do on the Academy it is designed to provide the participating players with some tools, something to think about.  They are free to take whatever elements they like, and what they believe would work for them and go away and work on it with their county coaches back home in the UK.   
The planned team bonding session around one of the Champions League matches in the resort's cinema room didn't go according to plan, mainly as Desert Springs can't get BT Sport, and for some reason, even though Barcelona were one of the teams playing, there was no terrestrial feed either.  Nothing for it but to nip into nearby Cuevas del Almanzora to watch it instead.  Speaking personally, I wish we hadn't bothered.  Every year we rock up at Desert Springs to watch the home leg of Arsenal's round of 16 Champions League tie.  And every year we get hammered. 
The end of the week saw the group decamp to La Manga up the coast and play two T20 matches against a Spanish XI.  The standard was much better this year.  In the first game, half centuries by skipper Ben Duckett and Ryan Higgins saw the Trust XI to 189-5, with the home side falling short by 67 runs, with the wickets shared around.  With Ben having to leave during the second match, Ed Pollock was invited to captain the side and for the first time in five matches over the three years of the Academy, the Trust XI ended up chasing.  The home side made 139 in their 20 overs and when the Trust slipped to 33-3 after ten overs, it looked as though a defeat might be on the cards.  But Jake Goodwin dug in, Ryan Higgins smashed three sixes in four balls to provide the chase with some momentum, supported by "Benny" Arshad and Lukas Carey, before Chris Jones, who had taken wickets in both matches with his off spinners, hit 6,4,2 from the first three balls of the final over to see the Trust team home by three wickets.  "Higgo" won the management's player of the day award, ever-so-marginally ahead of "Jonesy". 
That was the cue for a much-needed celebration last night meal and the opportunity to attack and murder whatever songs were available on the Karaoke. I'm still trying to get Breakfast At Tiffanys out of my mind, the unlikely combination of Surrey's Chris Jones and Pontardulais's Lukas Carey somehow warbling their way through to precious little applause.  The group's singing needs a heck of a lot of work. 
The final night at Desert Springs had seen the hugely popular meal in The Cave, where the management were able to thank the players for their commitment and contribution.  There were some great stories from around the table.  As in 2014 and 2015, the group worked incredibly hard and, as was also evident at the gathering the following evening at La Manga, they have bonded really well too.  It'll be good to follow everyone's progress during the season including, from a personal local perspective, catching up with Middlesex's Harry 'Dai' Podmore during his loan spell in Wales. 
Debriefs done on the final day, it was time for home.  Matt and I would like to thank all the lads for showing a consistently professional attitude throughout their time with us.  We hope that you have all gained a lot from the experience.  We're also grateful to the management team, especially Nico, Harv and Dean, and the input of Mark Garaway, Jamie Dalrymple, Martyn Ryan and our kit sponsor Richard Green of Abbey Glass, for their contribution and support along the way.  Rich's ability to fall asleep during the matches is impressive.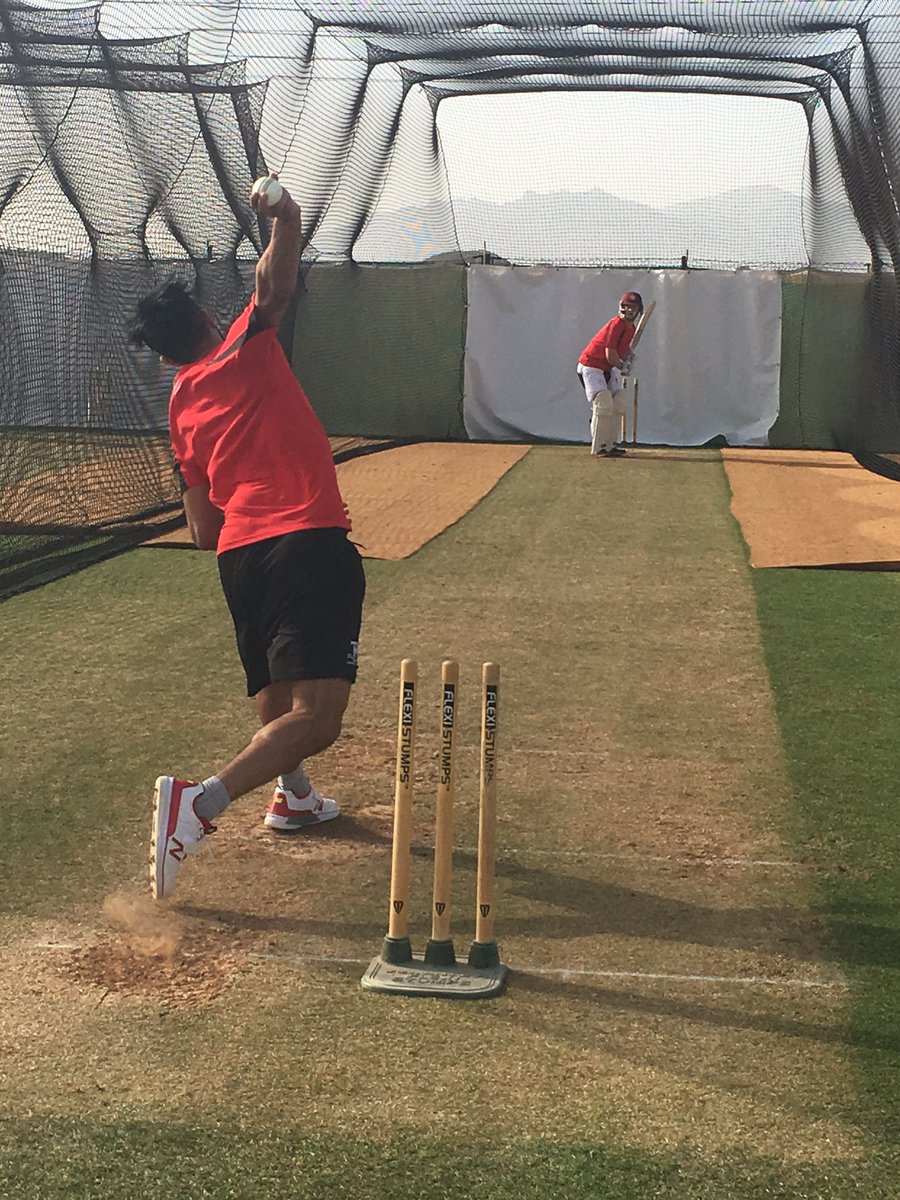 The nets were again very good, and we note the progress being made on laying new ones.  Thanks there to Ben Gibson, Anthony and their team at Desert Springs.  Certainly from the cricket I saw, the practice was purposeful and committed.  In terms of other support from outside our group, a huge 'thank you' to Andy House, he of the many different hats, in particular, as well as everyone at Desert Springs, especially Ellie (food and beverage, nothing too much trouble) and Kirk (who provided the vital golf link). We look forward to catching up with everyone again in 2017.   
CAST OF CHARACTERS
PLAYERS:
Usman Arshad (Durham), Lukas Carey (Glamorgan), Ben Duckett (Northamptonshire), Jake Goodwin (Hampshire), Tom Hampton (Gloucestershire), Jamie Harrison (Durham), Ryan Higgins (Middlesex), Jonty Jenner (Sussex), Chris Jones (Surrey), Harry Podmore (Middlesex), Ed Pollock (Warwickshire) and Tim Rouse (Somerset)
SUPPORT STAFF:
Matthew Maynard (Head Coach); Ian Harvey (Coach); Paul Nixon (Coach); Dean Conway (Physiotherapist); Mark Garaway (Personality Profiling); Jamie Dalrymple (Coach/Speaker); Mike Fatkin (Trustee/Speaker); Richard Green (Kit Sponsor); Martyn Ryan (Trust Chairman)
MF